The Legends Cars are back to Spa-Francorchamps.
Join us at Spa with your Legends Car for one of the most scenic adventures of the whole season.
---
For further information or inquiries, please contact :
Guy Fastres : fastres.guy@hotmail.com
Michael Serwy : michael.serwy@serwy.be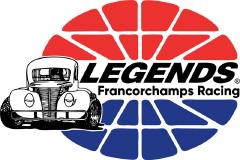 ---
Statute of the day

: Track day at high speed

When

: Wednesday, September 12

Where

: Spa-Francorchamps Circuit

Eligible cars

: Legends Cars

Noise limit

: The maximum sound level allowed on the track per car is 107 dB, measured at 15m from the centreline of the track.

Technical consideration for the car

:
Cars must be presented in an appearance that reflects the period in which they raced.
Cars must be configured to run on track. The organizer reserves the right to refuse access to the track of a vehicle which would not provide the minimum safety standards.

Safety Rules on the Track

 :
This is not a racing day. Please keep in mind the conviviality atmosphere and mutual respect among all participants. The track's safety service and marshals will be present to ensure this policy is observed. Any infringement of the instructions by a driver, any dangerous behaviour, or any excess of noise, will be penalized by the exclusion of the driver and the vehicle from the day.
Track time Wednesday, September 12

:


09:00 - 09:20
13:00 - 13:20
16:00 - 16:20
17:00 - 17:20
17:35 - 17:55
Total of 5 sessions of 20 minutes each exclusively reserved for the Legends Cars.

Paddock location

: in F1 garages

Extras included in the entry fee

:
• 2 lunch buffets at the 'Pit Brasserie'
• Passes for the day and sticker to join the track
• A 3-day ticket for the Spa Six Hours meeting (Friday - Saturday - Sunday)
Entry fee : 350€ all tax included.
---
I hereby apply to take part in the Legends Francorchamps Racing, Wednesday September 12, 2018.
Entry fee is 350€ per car all tax included. The fuel is not included.
After sending this form, you will receive an e-mail of confirmation with the payment references