A Masterpiece from Guy Moerenhout's Collection at the Spa Six Hours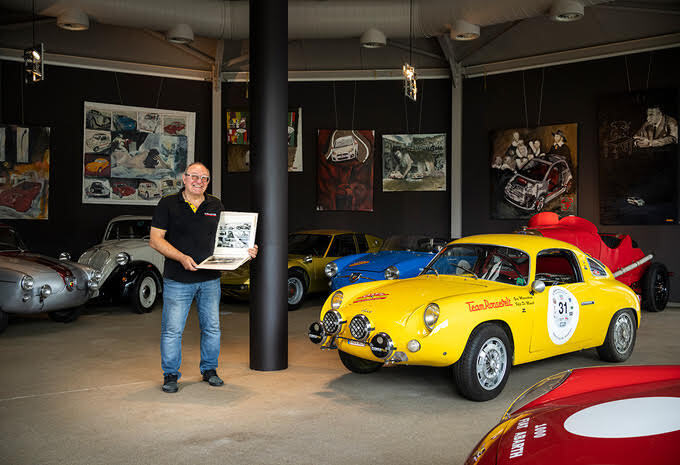 Guy Moerenhout, an iconic figure in the automotive world, seems predestined to cross paths with Abarth, the legendary brand founded by Carlo Abarth in 1949, the year Guy was born.
From his first steps in the world of rallying, Guy made a name for himself, opening his own garage in Mortsel and quickly specialising in the world of Ford Motorsport. But his passion didn't stop there. With the launch of the LADA NIVA, he became a benchmark in Belgium, founding LADA SPORT and becoming involved in major projects such as the Paris-Dakar Rally. Thanks to this chapter in his career, he now has one of the largest collections of LADAs in the world.
The years went by, but Guy's ambition never wavered. In 1984, he created GMR - Guy Moerenhout Racing. It's not just a team, it's a vision. Guy, with his love of Abarth, distinguished himself by becoming the last official Abarth rally driver in Belgium, making his mark at the wheel of a FIAT RITMO 130 TC ABARTH.
But Guy doesn't stop at racing. He thinks bigger, dreams bigger. He imagined a place where his passion for classic cars and Abarths could be shared with the world. Thus, was born the idea of the Abarth Works Museum. Located on the outskirts of Lier, this unique museum combining restoration and exhibition quickly became a must for car enthusiasts, showcasing an impressive collection carefully assembled by Guy. In 2015, the Abarth Works Museum officially opened its doors, unveiling a legendary collection of over 200 classic cars assembled by Guy. Five years later, Guy is working with his son-in-law Jeroen Nys on a new vision, a new lease of life for a growing collection.
Guy Moerenhout and Abarth is a story of love, dedication and passion. It is the story of a man who, over the years, has captured the essence of a brand and shared it with the world, inviting everyone to discover the fascinating history of Abarth and his own exceptional journey.
Exclusively for the 30th anniversary of the Spa Six Hours, a masterpiece from Guy Moerenhout's collection will be on display, an iconic car with an incredible history. Get ready to plunge into the past in the heart of the Paddock Experience area!