Een meer dan schitterend startveld voor de Spa Six Hours Endurance!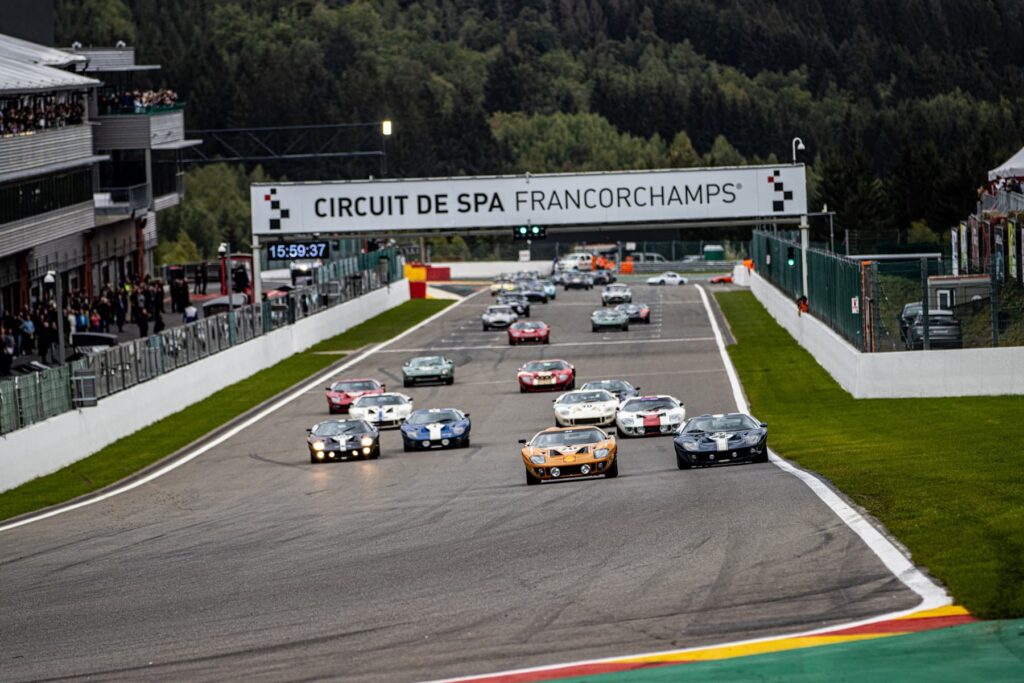 De editie van de dertigste Spa Six Hours komt er met rasse schreden aan! Van 27 september tot en met 1 oktober, biedt Roadbook weer een onwaarschijnlijke meeting aan voor de liefhebbers van wagens uit het recente en minder recente verleden. Het format van de meeting is herzien, met sportieve activiteit van donderdag tot en met zaterdag. Dat betekent meteen dat de Spa Six Hours Endurance, de hoofdwedstrijd van de meeting, het afsluitend vuurwerk van de meeting vormen!
Ook dit jaar kan de Spa Six Hours Endurance 2023 weer rekenen op een overvolle startgrid met goed 100 wagens! De Ford GT40, die 15 van de 29 edities won is opnieuw de te kloppen wagen en er staan er bovendien twintig aan de start. De namen in de auto's zijn werkelijk indrukwekkend, met Alex Brundle (zoon van ex-F1-rijder Martin Brundle), die het doet met Gary Pearson in de #2, Andy Priaulx, (ex-Europees en wereldkampioen toerwagens), die het samen met Miles Griffiths en Gordon Shedden doet (BTCC) in #14, Jimmie Johnson (zevenvoudig NASCAR-kampioen), Dario Franchitti (drievoudig winnaar Indy 500, viervoudig IndyCar-kampioen) en Marino Franchitti in de #32, of Nicolas Minassian (twee podia in de 24 Uur van Le Mans), die het met de snelle Olivier Galant in de #88 doet!
De wereld van de historische wedstrijden kent ook zijn echte specialisten, getuige de samenstelling van sommige teams in de diverse Ford GT40! De winnaars van vorig jaar, David Hart, Olivier Hart en Nicky Pastorelli doen het weer samen in de #8, en ze mogen zich aan tegenstand verwachten van Nikolaus Ditting en Sam Hancock (#3), Jason Wright, Michael Gans en Andy Wolfe (#6), Craig Davies, Chris Ward en Andy Newall (#7), Richard Meins en Chris Lillingston Price (#9), Shaun Lynn, Maxwell Lynn en Andrew Haddon (#10), Andy Willis en Rob Hall (#15), Kyle Tilley, Martin Stretton en Nicolas Minassian een tweede maal (#18), Oliver Bryant en James Cottingham (#21), Christian Glasel en Seb Perez (#24), Tony Wood en Will Nuthall (#25), Marcus Graf von Oeynhausen en de Belg Nico Verdonck (#30), Maxime Guenat, Dominique Guenat en Yvan Mahé (#50), zonder onze landgenoot Olivier Muytjens te vergeten, die Brice Pineau en Greg Audi (#20) ondersteunt. Veel woorden moeten hier niet aan toegevoegd worden!
De concurrentie komt eens te meer van de Jaguar E-Type en andere Shelby Cobra en Cobra Daytona. Bij de 'Britten' zien we Emanuele Pirro (vijfvoudig winnaar van de 24 Uur van Le Mans) die de Katarina Kyvalova vervoegt in de #34. Te volgen zijn ook vader en zoon Halusa, Martin en Lukas, die de Brit Alex Ames (#17) als teamgenoot hebben, Armand Mille, Yves Scemama en Guillaume Mahé (#31), Jon Minshaw, Jack Minshaw en Phil Keen (#33), John Clark (in een Lighweight, #39), de Belg Vincent Gaye en Joe Twyman (semi-Lightweight, #71), William Paul en Rory Butcher (idem, #173), of Steve Osborne, Rob Smith en Chris Ward (#188).
De herinnering aan Carroll Shelby die wordt hoog gehouden door Jeremy Cottingham en Harvey Stanley (Cobra Daytona, #36), Michael Hinderer, Christian Traber en Lando Graf Von Vedel (#Cobra, #43), Alexander Kolb en Frank Stippler (winnaar van de 24 Uur van Spa en van de Nürburgring, Cobra, #65) ...
Iets verderop vinden we de mannen van Colin Chapman met de Lotus Elan 26R, ook met sterke teams: Michael Schryver, Will Schryver en Marcus Weller in een Shapecraft versie, Lando, Alexis en Christian Graf Von Vedel (#46), Roderick, Patrick en Rory Jack (#63), Katsu Kubota, Andy Middlehurst en Richard Bradley (#70), Simon Evans en James Littlejohn (#75), Nick Matthews en Miles Griffiths (#472), of Sam Tordoff, John Tordoff en Andrew Jordan (#600)!
Voeg daar ook nog aan toe: de Gilbern 1800 GT, Shelby Mustang 350 GT, Aston Martin DB4 GT (waaronder de DP214), TVR Griffith en Grantura, Ginetta G4R, Ford Mustang, Falcon Sprint (met Vanina Ickx in de #100!) en Galaxie 500XL, Porsche 911 2 liter, MG B, Morgan +4, Marcos 1800 GT, Triumph TR4, en zelfs een Abarth 1000 TC! Voor iedereen wat wils dus…
De kwalificaties van de Spa Six Hours Endurance vinden plaats vrijdag van 19u15 tot 20u45, terwijl de dertigste editie van deze prachtige race zaterdag om 15u50 start, om uiteraard om 21u50 te eindigen…
Het wordt weer schitterend!