Revised format for the 30th anniversary of the Spa Six Hours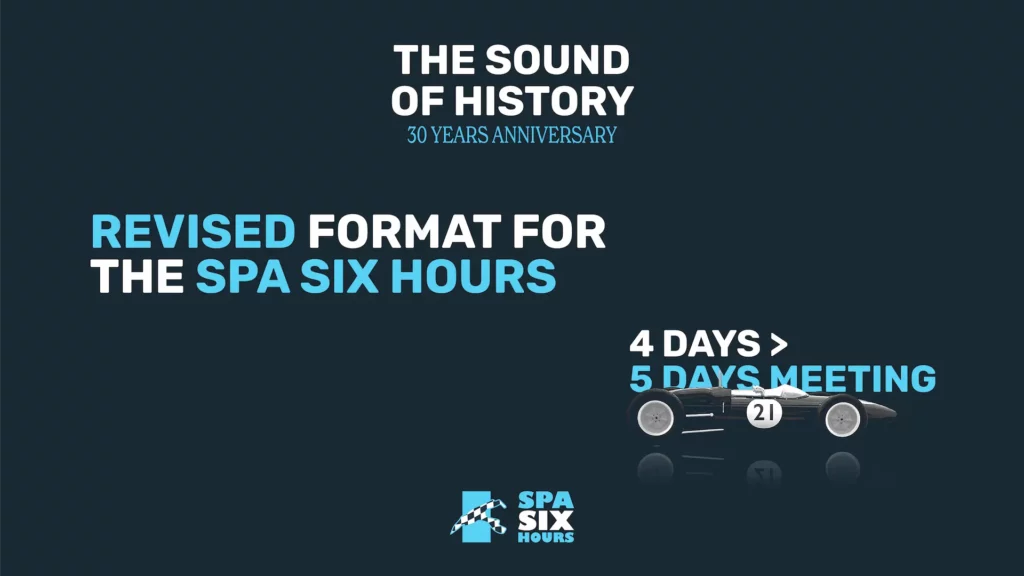 A not to be missed event on the historic and classic car racing scene, the Spa Six Hours has enjoyed an ever-growing popularity with each passing edition. Next autumn the Roadbook organisation will be celebrating its 30th anniversary. And for the occasion the format has been revised…
When jotting down the dates of 27th September through to 1st October in their diaries the fans will need to bear in mind one vital element: the race programme of the Spa Six Hours will conclude…with the eponymous event on the Saturday evening! Which means that the Sunday will be focussed on driving sessions for owners of classic cars – and vintage motorcycles – without the slightest notion of competition.
" Notwithstanding the fact that we are celebrating three decades of the Spa Six Hours, the focus on the evolution of our flagship meeting is permanent,"explains Vincent Collard on behalf of Roadbook. "The event christened Spa Six Hours Endurance, organised on the Saturday between 16.00hrs and 22.00hrs, unquestionably constitutes the highlight of our event. This means that the races being held on the Sunday enjoy a reduced visibility against a background of a paddock that is gradually emptying. Hence the reason why a new format will in place for the 2023 vintage....."
More specifically, the Spa Six Hours meeting will start off with the free practice sessions on Wednesday,27th September, followed by the qualifying sessions on Thursday, 28th September. On both these days, access to the circuit will be free! On Friday, 29th October, the actual racing programme will then begin, with as a bonus the qualifying sessions of the Spa Six Hours Endurance. A mouth-watering sporting menu that will conclude on Saturday, 30th September, with another series of races, prior to the grand start of the Spa Six Hours Endurance, with the podium, as always held in the Endurance zone, culminating the sporting part of the meeting. 
" Sunday will be reserved for classic car owners, who will have the track entirely reserved for them,"Vincent Collard added. "Once again, Roadbook and BEHVA - Belgian Historic Vehicle Association - will be working closely together, so that pre-war cars, but also classic cars and vintage motorcycles will be able to take it in turn on the Circuit of Spa-Francorchamps. A parade and other non-sporting activities are also featured on the programme.. »
While at this stage it is somewhat premature to reveal the purely sporting aspect of the Spa Six Hours 2023, this change of format will see the racing machines take to the track as from the Wednesday. Enough to guarantee a second part of the week in the form of a formidable time machine. 
In fact, this announcement coincides with the opening of the pre-sales for the Spa Six Hours 2023. Time to visit the official www.spasixhours.comwebsite, select the 'Ticketing' tab, to officialise your presence and take full advantage of the 'Sound of History'…
Free of rights pictures : Roadbook