Praktische en feitelijke informatie voor piloten
DONDERDAG 29 SEPTEMBER
Niet getimede OPEN PRACTICE
Download de Track Safety (binnenkort)
Donderdag 29 september is gereserveerd voor ongetimede vrije trainingen voor de coureurs en auto's van de volgende series:
Spa Six Hours Endurance
Masters Sports Car Legends
Masters Gentlemen Drivers
Masters Pre-66 Touring Cars
Woodcote Trophy & Stirling Moss Trophy
Belcar Historic Cup
SCHEMA VAN DE DAG : 
Sessie 1 • 09:00 – 09:45
Sessie 2 • 09:50 – 10:35 
Sessie 3 • 11:15 – 12:00
Sessie 4 • 13:00 – 13:45
Sessie 5 • 14:30 – 15:15
Sessie 6 • 15:55 – 16:40 
Sessie 7 • 16:50 – 17:35

Kosten: 

200€ inclusief belasting

 per sessie en per wagen.
Er zijn geen reserveringen voor vrije training. Ga naar de administratieve controles op donderdagochtend, 1e verdieping van het F1 Pit Building – zaal 115, vanaf 8.00 uur, om je ticket te kopen voor de sessie(s) van je keuze. 
Betaling contant of met creditcard.
• Alle auto's van de bovengenoemde serie delen het circuit, zonder onderscheid naar jaar, cilinderinhoud of groep.
• Geen passagier, geen instructeur. De bestuurder zit alleen in de auto.
• De technische keuring van de auto is niet noodzakelijk om deel te nemen aan de vrije training zonder tijdwaarneming.
• De geest van competitie is niet vereist, maar vriendelijkheid en respect voor alle deelnemers, ongeacht de categorie van de auto. 
• Zowel de circuitbeveiligingsdienst als de marshals zullen ervoor zorgen dat deze geest wordt gerespecteerd. De bevoegde autoriteiten kunnen de wagen uitsluiten van de meeting (vrijdag – zaterdag – zondag), indien de geluidsnormen niet gerespecteerd worden of in geval van gevaarlijk gedrag op de baan.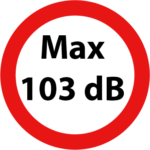 Maximaal toegestaan ​​geluid op de baan: 103 dB
Tijdens elke ronde van het circuit wordt een dynamische controle uitgevoerd.
Er wordt een statische controle uitgevoerd voordat de auto de baan opgaat.
Maximaal toegestaan: 107 dB, gemeten bij de uitlaatpijp.

Wij vestigen de aandacht van de rijders die deelnemen aan de vrije training op het feit dat de bevoegde autoriteiten de racewagen kunnen uitsluiten van de meeting (vrijdag - zaterdag - zondag), indien de geluidsnormen niet worden gerespecteerd of in geval van gevaarlijk gedrag op de piste.